All the class of the instruments fitted to 1950s and '60s racing cars and cafe racers
The BULLET HEAD collection by CT Scuderia revisits the cafe racer and heritage racing aesthetic from the golden age of the race track. The spirit of the drivers who stepped up to the challenge on circuits in the 1950s and '60s lives again in this iconic timepiece available in four versions: Dashboard with "Miles per Hour" lettering, inspired by the graphic design of rev counters and speedometers on racing motorbikes and sports cars; Chequered Flag, enhanced by the iconic racing motif; Carbon Fiber, lightweight by definition; and Saturno, with its signature CT Scuderia design. For the modern gentleman and motor sports lover.
The "Miles per Hour" dial, inspired by classic English motorcycle speedometers
All the appeal of beautiful English motorcycles from the fabulous 1960s distilled in the black dial with double scale and red and white numbers.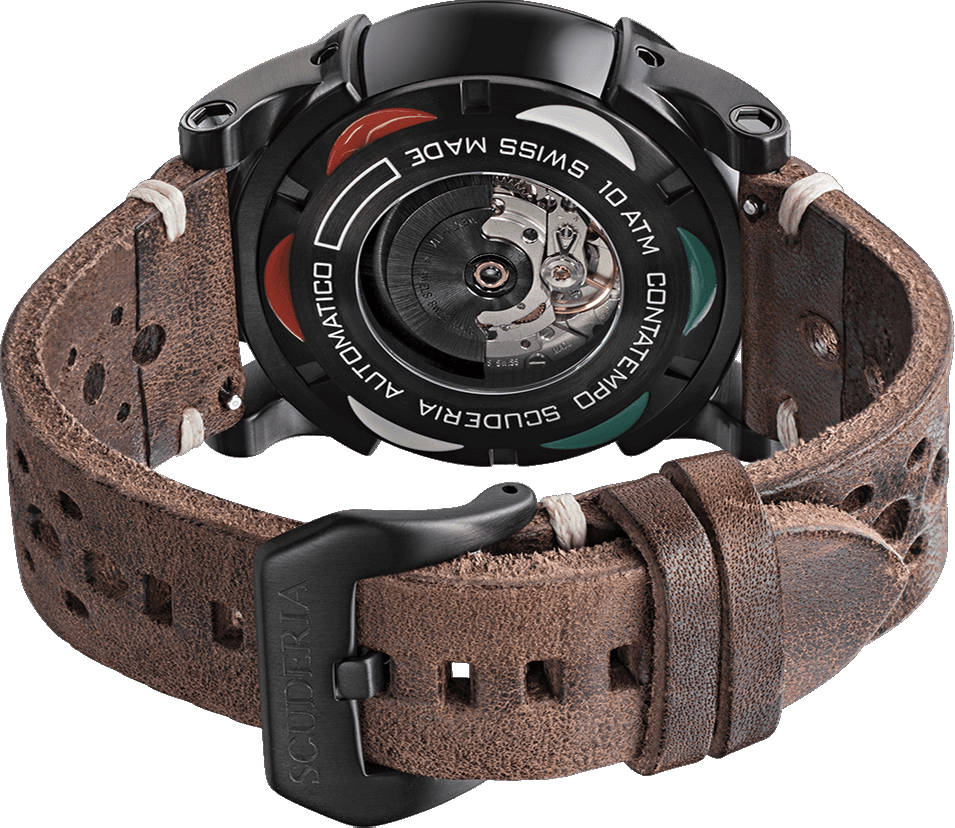 The heart of the Bullet Head Dashboard beats like a vintage motorcycle engine
All the beauty and precision of the automatic movement can be seen through the sapphire crystal glass. A jewel of mechanical engineering that you can't help but fall in love with at first sight.
The speed of time
Saturno style dial is a bold statement of the Italian heritage of this unique watch. High visibility hands and numerals tell the time in a speed glance.
The lightness of competition: Carbon Fiber
The Bullet Head's three-piece case and dial are made of carbon fiber, the same strong and super lightweight material used for super car and competition motorcycle bodies.
Vintage racing DNA in the iconic "Chequered Flag" dial
When your days are a race against time, there's no better graphic device than the black and white chequered flag to celebrate them. With the "Chequered Flag" ring running around the dial and the pushers and crown at 12 o'clock, the Bullet Head is a unique watch, like a custom special to wear on your wrist.