A watch that becomes a stopwatch. Character, sportiness and classic elegance.
The Corsa chronograph has the unmistakable design of a stopwatch, the absolute ruler of racing and its dominant force. The blue and red pushers at 12 o'clock tell the story of a legendary age of track heroes, who risked and won with only themselves and their mechanical vehicles to count on. The white dial and big numbers capture lap times at a glance. The 44 mm case is easily detached from the leather strap so that the Corsa can be worn on a neck chain.
The lightness of sporty styling revealed in every detail.
CT Scuderia has designed the Corsa chronograph based on key concepts in the world of racing: speed and lightness.
The three pieces of the 44 mm diameter, 13.5 mm thick case are held together by 12 screws, like the frame of a vintage motorcycle
Three indicators and maximum precision from the Swiss Made RONDA 3520 D quartz movement, protected by the screw-in case back with a tricolour motif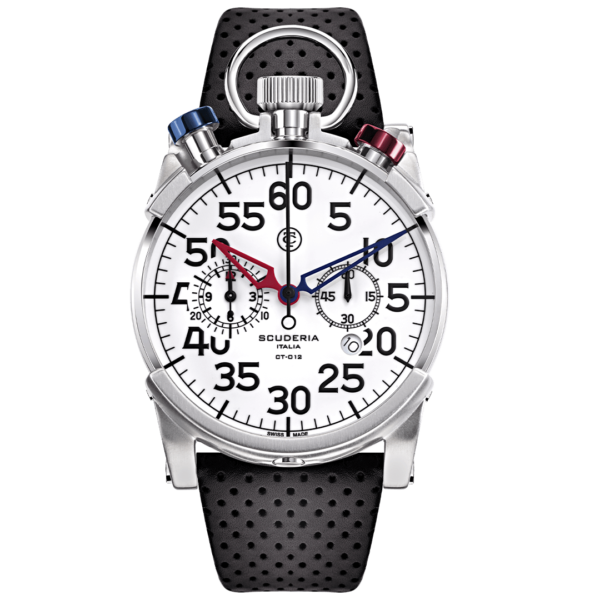 Crown and ring at 12 o'clock
At the top of the case are the interchangeable screw-down release and stop pushers and the crown with ring. Sapphire crystal glass
The rapid release mechanism lets you switch and swap between a fine Italian leather strap (smooth or lightweight), a steel bracelet or a strong and super light silicone band
Inspired by racing, with the elegance of an instant classic
Lightweight, with a perfect balance between individual components and polished metal for a timeless chronograph
The pushers and the crown with its stopwatch-like ring
Racing dial white, 24 Hours of Le Mans red and blue, and the polished metal bodywork of a racing prototype